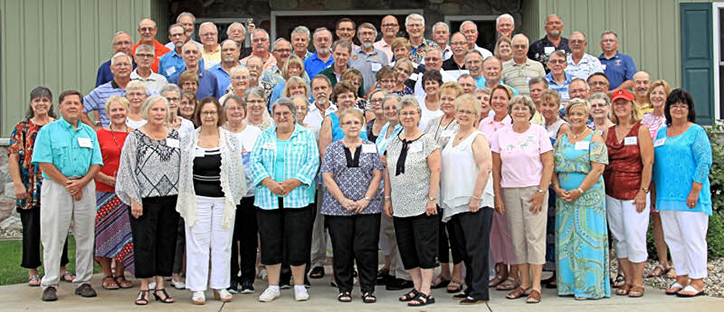 Save the Date - The Annual Community Breakfast sponsored by the Vicksburg Lions Club will be held on Saturday, July 28, 2018. More details will be available soon.

Class of 1962 - 55th Reunion
A 55th Class Reunion is being planned for the evening of Friday, July 28, 2017. PLEASE save the date. More information will follow when it is received. Please join our class Facebook Group where additional information will also be posted. "Vicksburg High School Class of 1962". For more information please contact the following classmates: Sharron Butler at 269-649-2028 e-mail: ronsharron@yahoo.com; Janet Kosacek at 269-329-1947 e-mail: janetkosacek@gmail.com; Mike Cloney at 269-381-9268.

Class of 1977 - 40th Reunion
Vicksburg Class of '77 is starting the planning process for our 40th class reunion. Date - July 15, 2017. Our class has a Facebook page - Vicksburg MI class of '77 for more information!

Class of 1966 - 50th Reunion Re-cap
Returning classmates from the class of '66 enjoyed a weekend of get-togethers and commemorations July 22 -- 24. Pat and Judy (Mohney) Jergens opened their home on Friday night at Portage Lake for a Meet and Greet where more than 75 classmates, spouses and friends shared conversation, food and drink.
The celebration continued Saturday morning at the Alumni Breakfast, held at the Historical Pavilion and hosted by the Class of '65. Following the breakfast, a number of classmates joined in Walk Vicksburg led by Judy (Mattimore) Carver. Judy and her husband, Roger, generously provided walkers with red t-shirts bearing a bulldog logo and the words: VHS Class of '66. That afternoon, the class held a Memorial to honor 31 of our deceased classmates. Family and friends of those classmates were invited to attend. The class donated a memorial bench to be placed permanently in the high school courtyard. Eighty people attended the event. Fred Cohrs led the service, Steve Parker offered special words of remembrance, and Judy (Mattimore) Carver shared her musical gift on the French Horn.

The reunion celebration, itself, was held Saturday night at Angel's Crossing. Seventy-four classmates and their guests attended. Also, we were pleased to host two former high school teachers, Ed Knapp and Richard Nielsen. Ken Brockway served as MC; Steven Craig Smith, Charles Tobey and Sherri Swihart each offered comments related to our class and our time at VHS. In addition, 24 veterans from our class and several spouses of classmates were recognized as having served during the Vietnam War period. Fred Cohrs and Sandy Reid presented each veteran with a lapel pin to commemorate that service. Forty-three of our classmates served during the Vietnam era. Ten of those veterans are deceased.

Sunday, 26 classmates, family and friends joined together at the home of Dave and Marie (Brocker) Lewis on Portage Lake for a Farewell Picnic. Marie said, "It was a fun time, and we shared many hilarious stories."

In addition to the events, one committee created a 50th Reunion Barker, which included updated biographical information for those classmates who provided it. Scott Olney (son of Carla Hodge Olney) designed the cover of the publication in her honor and memory.

This reunion celebration met all expectations.

Class of 1959 - 55th Reunion Re-cap
Our reunion went really well. Everyone had a good time. We had 52 come [33 classmates, 21 spouses]. Classmates came from Alaska, California, Oregon, Maine, Minnesota, Kansas, and even Vicksburg. The food was good. Our entertainment was memories from high school, Del Newell was our MC and did a wonderful job. We will have a 60th reunion in 5 years. If you have any questions, please contact Ron Rice at 269-372-7398 or e-mail him at sartr5346@aol.com.

Class of 1960 - 55th Reunion
The Class of 1960 will meet at the Vicksburg Community Pavilion (immediately following the Alumni Breakfast)for our 55th reunion. If you are not attending the breakfast, but would like to join us for the reunion, please meet at the Pavilion at 11:00 a.m. For more information you may contact Liz Brown Bushouse at 269-375-4255 or e-mail her at blbushouse@gmail.com.

Class of 1965 - 50th Reunion
VHS Class of '65 50th Reunion Banquet, Golf, yard party and Banquet will be held the weekend of July 25, 2015. Please contact Larry Shelton at LDShelton@sbcglobal.net for details and to sign-up.

Class of 1975 - 40th Reunion Re-cap
The class of 1975 held its 40th class reunion September 12, 2015 at Schrier Park in Portage. Thirty-one classmates and their guests were present. Absent classmates were missed and hopes for more get-together's were expressed. We invite fellow class mates to join our virtual gatherings on Facebook. We all agreed, we are glad we grew up in such a wonderful small town and turned into such friendly people. Here is to the next 10 years and a memorable 50th reunion.

Class of 1976 - 40th Reunion
The VHS Class of 1976 is planning it's 40 year reunion. Save the date - Saturday August 13, 2016. Our 40th Reunion will be held at the Fetzer Center on the WMU Campus. A webpage is being set up for details and registration. We would like anyone that is interested in helping to Contact Wendy Wolthuis at wolthuisw@tds.net.