Athletics
Buying tickets at Vicksburg Community Schools sporting events just got easier!
VCS is still using the Hometown Ticketing Site for digital tickets. And new this year, credit cards will be accepted for payment at athletic events. NO cash will be accepted at the ticket gate for any athletic events.
While we would prefer spectators use our Hometown Ticketing site, we also want to make sure our student athletes are supported and that everyone is able to cheer them on, which is why we have launched our point of sales system to allow credit/debit card sales at the gate.
Going forward, tickets purchased via credit card at the gate will be $7, which includes a processing fee. If you purchase individual game tickets via our Hometown Ticketing site, they are $5 per game, plus processing fees.
These ticketing procedures apply to Vicksburg home games only. Away games and any MHSAA playoff games require a different ticketing system.
We also want to encourage our senior citizens to take advantage of our free passes. Those 65 and up get into all VCS sporting events for free. Senior passes rollover every year so if you have one from last season it is still valid. If you need a pass, come to the High School Guidance Office with your driver's license to obtain your free season pass. If you are unable to make it during school hours, please call the office at (269) 321-1165 for assistance.
On the ticketing app, adults are also able to purchase season passes for $40 for 10 games and $70 for 20 games each pass. This is the best value option for VCS sporting events. These passes can be shared between family members to make it easy to get the whole family into games at a discounted price.
Student season passes are $23, plus processing fees. To purchase a student pass: Click 'Get Passes' on the Season Passes section. Click 'Have a passcode?' at the very bottom left hand corner of the page and input your child's school ID number. Enter Quantity of 1 under the Student Pass Type. Click 'Check out' to make your purchase.
Our goal is to get as many fans in the stands at our VCS home games as possible, and we are hopeful we can work with the community to make digital ticketing as easy as possible. Thank you for being #BulldogsUnited with us.
To purchase tickets students, parents and community members can visit Hometown Tickets.
Go Bulldogs!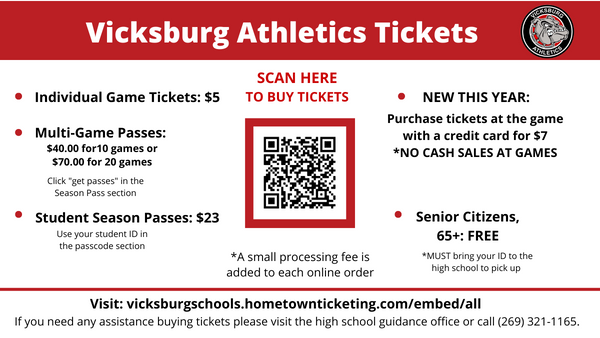 Athletes can not participate in MHSAA sports unless their digital forms are complete. This includes practices that begin in August for Fall sports in both the high school and middle school.
New for 2022, physicals must be uploaded online to planeths.com. VCS is no longer accepting paper copies.
To upload the documents, an account must first be created with the student's login info. Students login with their school email address and the password is: bigteams. Then parents/guardians must create a separate account using their own information and link the two. Parents click 'Sign up' and follow the directions. Parents then select 'link account' from their menu options. If your student's email is not working or says it is invalid, try a phone number and the password bigteams.
Note: The program works best from a computer, rather than a tablet or a phone. As of now only the high school is listed. Middle school students should select high school to complete their sign up process. Each student has to create their own individual account.