Meet the Board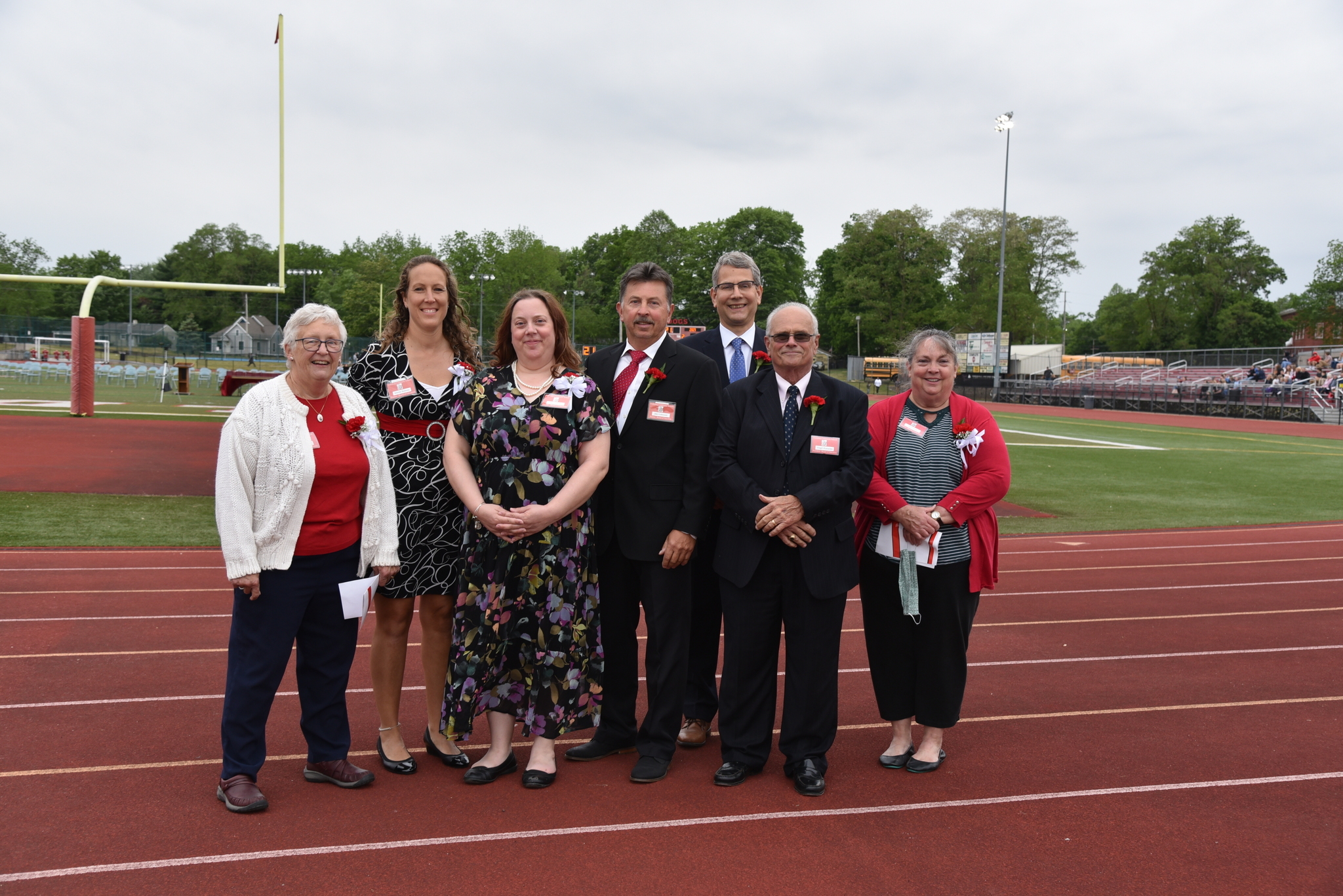 Vicksburg Board of Education
Leadership, service and education

The Board of Education is an advocate for all students, parents and educators within the Vicksburg Community Schools system. The Board is committed to creating policies and finding the tools and resources to improve student achievement and ensure that all students receive a high quality education that prepares them for the demands of the workplace, post secondary education and citizenship.

(To view a board member's biography, click their name)

Virgil (Skip) Knowles - President
President | Term expires: 2024
skipkno@comcast.net

Virgil (Skip) Knowles is no stranger to service and leadership. He has served tirelessly on the school board for 34 years. Most notably he has been the Board president for 31 years. In addition he has served on the following Board committees: Auditorium, Capital Projects/Building and Site, Personnel, Negotiations, Student Affairs, New Board Member Orientation, Board Room Renovation, Board Evaluation, Legislative/LINKS rep, and Strategic Planning rep.

When not providing leadership for the School Board, Skip is involved with the Vicksburg Community Association, Vicksburg Downtown Development Authority, Vicksburg Municipal Building Authority, Vicksburg Rotary Club, and the Vicksburg Old Car Festival and has held leadership positions in each. Additionally, he has served on the Kalamazoo County Convention and Visitors Bureau and the Kalamazoo County Chamber of Commerce.

Skip's leadership is evident by positions he holds or has held: VCS Board president, chairman of the Vicksburg Downtown Development Authority, Chairman of the Kalamazoo County School Officers, past president of Vicksburg Rotary, Secretary of the Kalamazoo Regional Educational Service Agency Board of Education, Chairman of the Vicksburg Old Car Festival, Chairman of the Kalamazoo County Schools Legislative Committee. Skip is a certified board member of the Michigan Association of School Boards.

Skip makes time to get in the classroom as he annually talks to the High School government classes and he reads to elementary classes. In the past he has been involved in the Middle School Study Committee, Facilities Improvement, Keep Good Schools for Kids Committee, Kids are the Future Committee, and Band Boosters.
Carol Lohman - Vice-President
Vice-President | Term expires: 2024
calohman@aol.com

Carol Lohman has a history of utilizing her leadership by providing service to the community of Vicksburg. She has served on the Board of Education since 1984. Over the years she has served on the following committees: Personnel, Negotiations, Capital Projects/Building and Site, Technology, Board Evaluation, New Board Member Orientation, and Board Room Renovation. Carol has served actively on the Vicksburg Community Schools Foundation as well as the Kalamazoo Regional Educational Service Agency representative. Additionally, she has stayed involved in the Kalamazoo County School Officers Association.

Since 1984 Carol has been an active and involved member of the Vicksburg United Methodist Church where she has participated on various committees. She has been a Kids Hope mentor for the past six years, has been involved with Rotary Showboat, and sat on the Bronson Vicksburg Hospital Advisory Board. Carol's leadership is evident in the roles she has assumed as past president of the Vicksburg Community Schools Foundation and vice president of the Board of Education with 22 years of service. She is the Scholarship Chair for the Foundation as well as serving on the Public Relations Committee.

Since retirement Carols spends time at the Middle School supporting the Science Department.
Term expires: 2026
dwgrabow@comcast.net

Dan Grabowski relocated to Vicksburg from Kalamazoo in 1990, and has been involved with the Vicksburg Community Schools since 2005 when his son, Adam, entered Kindergarten at Indian Lake Elementary. Dan and his wife and joined the Vicksburg HS Athletic Boosters in 2013. In 2014, they were appointed to the Executive Board secretary position. During their tenure, they were involved in multiple committees, revitalization programs and events. The opportunity allowed Dan to gain greater perspective of the culture, goals and values of both Athletic and Academic communities. Dan is recently retired from Pfizer where he served as Senior Manager for the last 20 years supporting various Organic and Fermentation Operations.
When approached regarding the Vicksburg Board position, Dan was very excited with the possible opportunity. His leadership skills and past experiences and involvement will be very beneficial in supporting Vicksburg and the Educational Community.
Dan and Cheryl live on Indian Lake. Their son, a recent graduate of Vicksburg High School is attending Michigan State University.
Term expires: 2028
jbuikema@vicksburgschools.org

Jennifer Buikema was appointed to the Board of Education on August 15, 2020 to fill out the term vacated by Rudy Callen. She moved to Vicksburg in 2011 to continue work in the education field and to start a family. As an educator, she was working at Glen Oaks Community College as Program Director of the TRIO Student Support Services Program. The program worked to provide support services to enrolled college students who were low-income and/or the first in their family to attend college. Prior to that, she worked in a similar program called TRIO Upward Bound at Grand Rapids Community College, where she served as Academic Coordinator assisting a similar demographic of Grand Rapids Public high school students in college-prep. Since becoming a stay-at-home-mom, she became active at Sunset Lake Elementary volunteering in both her son and daughter's classes, helping with reading/phonics groups, aiding in PTSO events and assisting in the organization of the school's Box Tops program. She also was active on the Schoolcraft Community Co-Op Preschool Board as both Membership and Treasurer while her children were in preschool.
She is excited to continue to serve in the field of education while taking on a new role in supporting the Vicksburg School District.
Jennifer coaches volleyball at Kalamazoo Valley Community College where she has served as Head Coach since 2014. She also became a licensed Realtor with Berkshire Hathaway HomeServices in 2017.
Jennifer holds a Bachelor of Arts Degree in English (Secondary Education) from Hope College and a Master of Arts Degree in Educational Leadership from Western Michigan University.
She currently lives on a small farm with her husband Jaime and 3 children.
Term expires: 2026
sewillo5@gmail.com
Stephanie Willoughby moved to Vicksburg in 2010 and has been employed at the Vicksburg District Library as the Youth Services Librarian for the past six years. Stephanie enjoys visiting the schools in the District; sharing about the Summer Reading program, story times with Bulldog Beginnings and Kids Klub, and book clubs with the middle school students. She feels that being out and about in her neighborhood and community, hearing children call out "You're the library lady" and sharing what they are reading is the best.
Stephanie worked with the Library Director and Board to change the Library card policy, so that all students who attend VCS, regardless of where they live, have access to a free library card.
She is excited to serve the community and felt the best way to do that was to become a VCS board member. She currently has three children who attend VCS and feels making connections and communicating with the community will help create trust and build a stronger relationship between the Board, parents, and families.
Stephanie's professional background also includes serving as a Director of Children's Ministries for two large churches in Kalamazoo County for over 13 years. She has also worked for the Kalamazoo Valley Museum helping with programs and school visits.
Term expires: 2028
tinaforsyth@yahoo.com

Christina (Tina) Forsyth has never hesitated to take on leadership roles. This is clearly illustrated by her willingness to serve on the Vicksburg Board of Education two separate times in her life. She has logged 18 years on the Board to this date. Tina has been on the following Board committees: Auditorium, Student Affairs, Technology, Board Orientation/Evaluation and Transportation.

Tina has spent a "lifetime" volunteering for the Vicksburg Rotary Showboat. She has a history of providing service with the FlowerFest, Main Street Revue, and an area co-op preschool. Additionally, she has helped with the annual Girl Scouts event at the Performing Arts Center.

Tina has an exhaustive history volunteering at Tobey Elementary. She served on the PTO Board, volunteered for fund raising, spent countless hours in classrooms, chaperoned field trips and lent a hand wherever needed. Tina has held leadership positions with the PTO, co-op preschool, and in stage management.

You have probably seen Tina around the Performing Arts Center as she stays active in the schools' arts and theater as well as the operation of the Performing Arts Center.
Term expires: 2026
david.schriemer@sbcglobal.net

Dr. Dave Schriemer has been a board member since 2005. He has been involved in the community since making Vicksburg home in 1989. He has enjoyed performing in the Rotary Showboat, served as trustee on the Vicksburg Community Schools Foundation and supported, announced and run in the Vicksburg Hearty Hustle 5k.
Dr. Schriemer and his wife, Dr. Paula Schriemer, have three children, each of whom received their education in Vicksburg Schools, graduating in 2010, 2012 and 2018. Like most dads, he has helped coach his children in Little League, helped with playground improvements and worked concessions to raise money for various athletic teams. He continues to be a Kids Hope mentor at Sunset Lake Elementary, counting that one hour a week as one of his most important activities.
His role as a family doctor in Vicksburg has given him unique opportunities to serve the community. Several VHS graduates have shadowed him in his office to help them in their career pursuits. He has organized and performed sports physicals for VHS and VMS students since 1989.
He is on the board of the Vicksburg Foundation and sees patients at Bronson Family Medicine Vicksburg.