October 11, 2022
VCS is the Bike Friendly Kalamazoo 2022 Civic Leadership Award Winner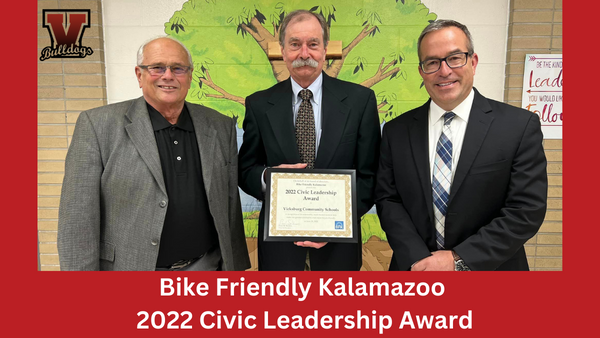 Vicksburg Community Schools has been named a civic leader by an organization called Bike Friendly Kalamazoo.
Bike Friendly Kalamazoo's Board of Directors presented Vicksburg Community Schools one of BFK's three 2022 Civic Leadership Awards.
The presentation to VCS School Board Chair Virgil (Skip) Knowles and Superintendent Keevin O'Niell by BFK's Chair/President Paul Selden took place during the VCS November School Board meeting.
Vicksburg Community Schools earned BFK's 2022 Civic Leadership Award for its ongoing work and encouragement to make the greater area more bicycle friendly.
VCS was the first school district within the Bike Friendly Kalamazoo area to introduce the All Kids Bike Kindergarten PE program. Superintendent O'Neill then help introduce the program to the superintendents of Climax-Scotts Community Schools and Schoolcraft Community Schools. The Vicksburg Foundation provided a grant to help support the All Kids Bike program.
Nominees for BFK's Civic Leadership Award are submitted during Bike Friendly Kalamazoo's annual survey of community bicycling needs and annual public meeting each year.
Bike Friendly Kalamazoo's goal is to help create more bicycle friendly communities and to bring awareness about all the benefits of bicycling.