January 19, 2023
Vicksburg Middle School athletics joins the Wolverine Conference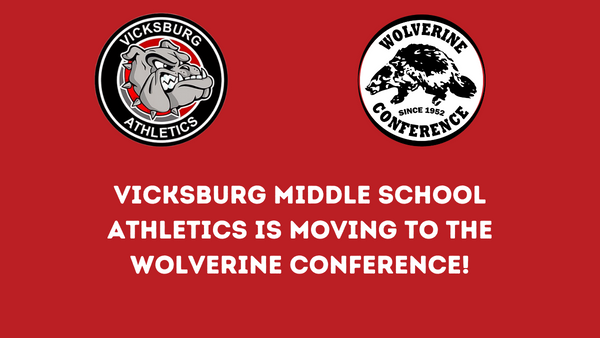 Vicksburg Middle School athletics is joining the Wolverine Conference!
This move from the KAMSL to the Wolverine Conference will open up more opportunities for all VMS athletes, especially our 6th grade students. With this change coming for the 2023-2024 school year, 6th graders will be able to join boys and girls basketball and track and 6th through 8th grade boys and girls will have the opportunity to join tennis. These sports are in addition to the ones currently offered at VMS.
It will also allow our middle school athletes a chance to start building friendly rivalries with players, teams and schools they will face in high school.
"When the district considered making the switch in middle school athletics, three key things were discussed. Creating the friendly rivalries established at the high school starting at the middle school level. The belief in the benefits of conference play enhances programs, creates a positive middle school experience for students, and allows for relationships to be developed now starting in sixth grade. And that sports offerings within the Wolverine Conference allow for increased participation numbers," said VCS Athletic Director Michael Roy.
Parents and students can expect to see information about the new conference and the sports offered next school year in the coming weeks.