October 25, 2023
Vicksburg High School Students Urged to Apply for the Superintendent's Student Advisory Board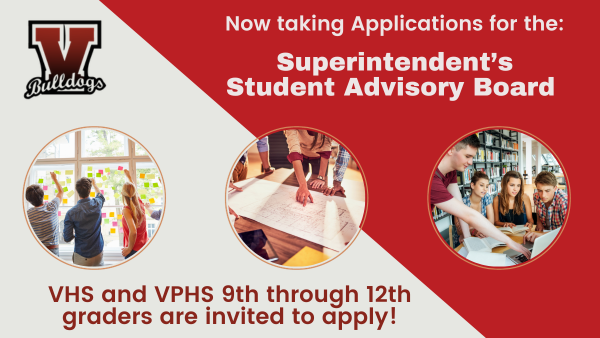 Attention Vicksburg High School and Vicksburg Pathways Students: Superintendent O'Neill is forming a Superintendent's Student Advisory Board (SSAB) for the 2023-2024 school year.

The SSAB will be comprised of approximately 14 to 16 students in grades 9 through 12 from both VHS and VPHS.

This advisory board is being established to create more of a student voice in Vicksburg Community Schools and create an avenue for Vicksburg students to provide important input on issues facing our students and district.

Those interested should see their VCS email for the application link or speak with their high school office about applying. Students must apply using their Vicksburg Community Schools email.

Applications, which must include a letter of recommendation from a current or former teacher, counselor, coach or administrator, are due November 2nd.
Meetings will be held at the Vicksburg Administration Building and will run from 11:30-1:00pm and will include lunch.