"As men, we are all equal in the presence of death." - Publilius Syrus (~100 BC)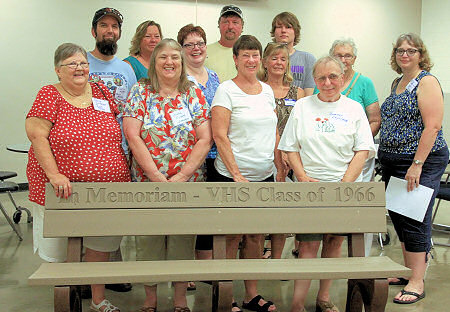 Memorial bench presented to Vicksburg High School for placement in the courtyard. Pictured are family and friends who attended the Memorial Service honoring our classmates who are deceased.
We remember our classmates who have passed...
Class of 2000+
Class of 2018
Marcionna Edwards
Brennan Hamilton

Class of 2015
Kayla Davenport
Bradley "Brad" Jacob Dow
Justin Storey​​​​​​
Class of 2012
Dustin "Dusty" Robert Sloan
Class of 2011
Brayden Barnum
Benjamin Dykstra
Megan Holt
Trevor Jon Jennings
Class of 2010

Class of 2009
Matthew Houtkooper
Austen T. Porter
Taylor VanSchoick
Brittany Vroman
Class of 2008
Johnathan Bradley
Benjamin Burkette
Matthew Canney
Brittany Chapman
Ginger Hicks
Brittany Mattmiller
Tara Paffhousen
Peter Tindall

Class of 2007

Class of 2006
Brandon Kusz
Zack Neal
Bryan Michael Smith

Class of 2005
Lauren Grosshart
Jennifer Marie Rowe
Elizabeth Anne Sehy
Jeremy Smith
John Toepper

Class of 2004
Kasie Kline
Drew Russell

Class of 2003
Jason Dunlop
Vanessa Hicks

Class of 2002
Danielle Ackerman
Nick Dervan
Theodore Michael Cole
Jordan McMullen

Class of 2001
Anna (Crouch) Conner
Steven Michael Hanson
Amanda Myers
Jeffrey Wright

Class of 2000
Lori (Pierson) Blakely
Class 1990 - 1999
Class of 1999
Eric L. Crawford
Wesley Engler
Joshua Walter Fink
Andrew Kuder
Lucas Tigchelaar
Class of 1998
Christina (Beattie) Cole
Lucas Wells

Class of 1997
Jessica Makowski
Timonthy E. Price

Class of 1996
Amy Deal
Jennifer Horn Maher
Ana Resseguie
Kimberly Richmond
Janice Slanker

Class of 1995
Kevin Perkins
Owen Shearer
Darrin Thomas
Adam Worrall
Class of 1994
David Eisenhardt
Dana Fish
Ryan Miller
Jason Snook


Class of 1993
Jeremiah Barnes
Karen Boyd
Roger Kniss
Janine Kolodzieczyk

Class of 1992
William "BJ" Decker
Kevin Hanley
Veronica Haskamp
Evelyn Hotrum
Kalinia Gould Ibison
Gregory "Mark" Kinder
Michael Kuis
Brent Lovell
Christie Nielsen
Andy Perry

Class of 1991
Robert Earle
Adam Gunderson
Andrea (Verwey) Loucks
Robert Richey

Class of 1990
James Raymond LeZotte
Class 1980 - 1989
Class of 1989
Jennifer Cleveland
John Geier
Richard Johnston
Paul Ptacek
Steve Randall
David Shingledecker
Edward "Ned" Tanis

Class of 1988
Dennis Elnick
Todd Biron Foote
George Hatfield
Jay Jah Franklin Nehls
Todd Watson

Class of 1987
Eric Adams
Julie Cunningham
Deborah Dietsch
Paul Evans
William Goecker
Michelle Gunderson
Cheryl Howell
Dale Allan McCullum
Penny (Toornman) Major
Lonnie Pettit
Todd Harold Weinberg

Class of 1986
David James Mendam
Rebecca Philipp
Sandra Moran Simons

Class of 1985
Dana Butler
Eric Cross
Scott Allan DeYoung
Victoria "Tori" (Dean) Lafler
Nhi (Nic) Loc
Maj-Britt Spaulding
Tammy Spencer
Carrie Toornman
Sonya Ver Sluis


Class of 1984
Kristine (Kris) Bartley
Judy Marie Fritz
Kelly Sue (Hester) Elnick
Darlene "Dolly" Hilton
Cynthia "Cindy" Mack
Keith Meachum
David Palmer

Class of 1983
Jill Stacy (Puvogel) Adamski
Cindy (Forsyth) Chapman
Dana (Hixson) Ball
Scott Allen DeYoung
Bradley Mills
Dave Palmer

Class of 1982
Londa (Wood) Bassett
Martin Birk
James Dean
Dwight Haines
Timothy Lafler
Michelle Preston
Steve Simpson

Class of 1981
Mark Barnebee
Todd Bittenbender
Scot Dailey
Leslee (McSpadden) Hayden
Dwight Spiegelberg

Class of 1980
Bradley "Brad" Adams
Troy Bowman
Sarah (Blankenship) Goss
Sharon Elaine Loomis
Annette (Burns) Meengs
Evan Shick
Class 1970 - 1979
Class of 1979
Rob Billman
Ronald Davis
Rodney Decker
Joseph Dekker
Dwight Colley
Clara Comstock
Al Dobbins
John Heath
Brad Hiemstra
Erika Ike
Kenneth Leland
Jim Lewis
Teresa Livers
Jim Moberly
Dennis Truckey
Dwight Colley
Brian King
Doug McSpadden
Mark Melching
Rod Sloan
Mark Wales
Dennis Ramgren

Class of 1978
Mike Bingham
Jodie Burnham
Kim Dailey
Greg Derhammer
Richard Dontje
Lori Engler
David Hendrick
William Brian Loomis
Linda Kye Martinez
Eric Moore
Mariley Smith
Daniel Smittendorf
Ted Wayne Strong
Norman Tassell
Mark Vickory
Greg Wolthuis

Class of 1977
Janice (Clark) Baker
Terry Baldwin
Brad Bowman
Larry Burrows
Robert Davis
Donna (Noel) Fornoff
Mark Jones
Barbara Jean (Dorey) Kissinger
Richard Kline
Shellie Lewis
Mark Lindley
Randy Long
Tonya Mears
Dave Merrill
Julie Munn
Edwin Parker
Steven Price
Billy Reynolds
Jeannie Taylor
David Thomas
Mark Townsend
Dave Tabor Whipple
Nancy (Smith) Worthington
Andy Zablocki

Class of 1976
LeRoy George Fink
Tom Grubka
Larry Hackenberg
William Hill
June Ann Lesman
Mark Manor
Jilayne Marie Lesman-Mort
Cindi Lou Noel
David Ocvirek
Sue Stafford

Class of 1975
Wendy Britten
Rhonda Glashower
Ronald Hambright, Jr.
Gilbert Lewis
Debra McDonald

Class of 1974
Deb Babcock
Toni Burggraff
James Edward Fess, Jr.
Bob Hill
Norman Isaacs
Mark Miller
Barbara Nelson
Rosellen Richards
Rhonda Ridenour
Mike Sehy
Georgia Stafford
Vicki Gates Thompson
John T. Vander Straaten

Class of 1973
Terry Ames
James Batek
Mark Bolhuis
Marty Ray Boone
Barbara Brookman
Jaye Bruce
Dennis Caswell
Cecil Everett
John Frakes
Stanley Gose
John Gould
Mike Green
Cheryl Grover
Dean Haines
Richard Hazen
Tracy Hoehne
Sally Hoogendorn
Donna (Sweet) Lockwood
Johnnie Manion
Mark Pierson
Dennis Pound
Guy Prudden
Gary Richman
Keven Ridenour
Cindy Roberts
Karen (Hatfield) Sabin
Tim Shook
Pam Simmons

Class of 1972
Maureen Cole
Timothy Dent
Terrance "Terry" Dorbin
Randall Frakes
Diane Eberstein Gettys
Beth (Lowe) Haines
Susan Heller
John Hodgman
Mary Homan
Keith Johnson
Lynn Kirkens
Dennis Mohney
Jim Ryder
Robert Taylor

Class of 1971
Robin Girolami
Linda Holtz
Brad Lehmkuhl
Steve Lipka
Danny Mohney
Betty Norton
Douglas Paul Swinehart

Class of 1970
Connie Brockway
Michael Burns
Stan Cartwright
Yvonne (Dean) Douglass
Ike Erkkila
Mark Frizzo
Phyllis Gilreath
Doug Holtz
James Huntington
Karen Johnson
Ken Jones
Christine (Cole) McGahan
Cathy Mack
Virginia (Caswell) Munn
Steve Murphy
Vickie Nimmo
Karen (Hoyt) Northrup
Alan Otterson
Nellie (Dibble) Pierson
Pat Pinkerton
Jan Sherman
Joe Shook
Jim Sillaman
Mark Skippers
Terry Smith
Diane (Homan) Wendorf
Jack Wiley
Class 1960 - 1969
Class of 1969
Robert Bender
Cheryl Good Bowen
Robert Cook
Connie Decker
Stacey Dekker
Judy Eichorn
Edna Ely
Sandra Goldberg
Gary Hammel
Diana Harper
Thomas Holt
Gary Homan
David Huntington
Dennis Klinger
Gary Kuder
Cathy Ladyman
Jackie Llewlyn
Iva Neidlinger Markovich
Betty McClintic
James McGehee
Gary Miller
Hazel Merritt Mullen
Maurice Mulvaney
Dean Patnoude
Patrick Pinkerton
Sheryl (Coy) Prescott
James Prudden
Dan Ramlow
Vicki Rice
Samuel Rogers
Karen Rolfe
Beatrice Schmidt
Joseph Shearer
Sue Shirah
Dave Slater
James Slater
Dale Smith
Steven Smith
Larry Tassel
Dennis Totten
Gene Wilson
Rodney Veldkamp
Cheryl Yaple
Ronald Ziegler

Class of 1968
Vicki Beadles
Dennis Briggs
Mike Brockway
David F. Brown
John Butchbaker
Thomas Edward Butler
William Robert Cohrs
Gary Dalman
Steven Dalman
Ron Dunblazier
Susan Wood Geoghegan
Doug Gillespie
John Grohs
Owen Green
James Grimm
Stephen Herman
Roy Hodgeman
Carol (Crapo) Martin
William McGlocklin
Ivan Moyer
Geneva Mucha
Richard "Rick" Nelson
Marigail Nemire
Michael Noel
Karen Oswalt
Terry Pinkerton
Judith Raab
Brenda (Homan) Renshaw
Mike Ridge
Joel Russell
Andy Shearer
Kathleen Shelton
Linda Sherman
Della Mae Spencer
Barbara Breseman Steel
Stanley Stermer
Darrel Taylor
Keith Thomas
Edward Turk
David VanNoorloos
Jerry Yoder
Laura Zonyk

Class of 1967
Cheryl Allison Louie Bartholomew
Bob Bolton
Robert Briggs
Tommy Brown
Lane Buytendorp
Russ Caswell
David Clark
Mary Ann Decker Carrier
Deborah Rial Eckart
Shelly Fitzgerald
Brent Fowler
Kenneth Fowler
Sharon Blankenship Gates
Linda Engler Granada
Ferris Harper
Susan (Bowyer) Hayes
Krestine Himebaugh
Larry J. Hollenbeck
Donald Holt
Ruthann Meulman Howell
Jill Riddle Jilek
Jerry Kelley
Michael McMullen
John McSpadden
Clayton Martinka
Allen Middaugh
Bruce Neeson
Diane Nimmo
David Noel
Robert Pierson
Robert Rambadt
Thomas E. Shirah
Bob Shockley
Ken Smead
William Statler
Marvin Taylor
Ed Turk
Bob Woodard
David Uplegger

Class of 1966
Virginia (Gustofson) Allen
Bruce Berry
Tamara (Warfel) Root-Blodgen
Michael Carvell
Roger DeDie
Kathleen Davis
Steven Evans
Mark Fox
Robert Gildersleeve
Louis John Grimm
Michael Hansen
Donald Hawver
John Hoff
Katherine (Raggio) Howell
Esther (McClintick) Kalhorn
Henry Leja
Suzanne (Rumz) McConnell
James Martin
Larry Joe Mason
Robert Marks
Nancy (Harbor) Mays
Jeanne (Sherman) Meisling
Steven Miller
Robert Munn
Carla (Hodge) Olney
Muriel (Brocker) Oswald
Mark Patnoude
Mary (Grohs) Paviso
Linda (Brown) Pigg
Lillian Jean (Lang) Piper
Richard Rasmussen
Dixie (Homan) Reidenour
Wayne Richards
David Sanford
David Schultz
Thomas Speers
James Welsh
Terry White
Carolyn Lee Wise
William Wolf
Marilyn Wright Montgomery
Bruce Yaple

Class of 1965
Terry Beadles
Yvonne (Drake) Booth
Jack Lee Brown
Gary Brush
Dale Catherman
Barry Crouch
David Dailey
John Davenport
Carol Decker
LaCinda Dorrance
Janet (Nelson) Doorn
Ron Eaton
Richard Elliot
Pamela Findley
Sharon (Rice) Flickinger
John Fritz
Raymon Johnson
Jim Lawson
Jo Anne McCrumb
Carol Ann Maslanik
Larry Mason
Robert Miller
John Munn
Carol Plantier
June Rodgers
Robert Allen Sehy
Ron Shook
Phillip Snyder
Harry Speers
Frederick Max Streeter
Susan Sube
Shirley Thatcher
Joel Ulsh
James Woody
John Wynne
Donald Zantjer

Class of 1964
Debbie Barclay
David Burr
Martha West Cook
John Davenport
James Erskine
Richard Frisbie
Kenneth Allen Hagelgans
Sharon Hyatt
Judy (Livingston) Coop
Bob Martin
Rocky Middaugh
Martha (Brocker) Polanski
Jon Saunders
Jon Saunders
Robert Sehy
Judy Sisson
Naomi Stout
Jeff Smith
Charles Swartz
Joseph Therrien
James Tolhuizen
John Vance
Tamera Rowed Warfel
Marshall (Earl) Weatherwax
Jack Welch
Nancy (Belland) Wood

Class of 1963
Ellen (Mohney) Bates
Mary (Ackerman) Bowen
Sharon Ann (Kooima) Bacheler
Robert Keller Bishop
Thomas Jeffery Brown
Richard Lee Clifford
Mary Ruth Culp
Ronald Gordan
Jackie McElvain Gose
Linda (Bartos) Harvey
Roger (Stub) Alan Haynes
Mary Ruth (Clup) Homan
Peter Kaat
Thomas Kelly
Barbara Ann Lang
Carol Thornton Mackey
Sondra (VanMaanen) Madsen
Sally Marie Maher
Jerry Lee Moyer
Carol Jean Owen
Emma Jean Riggs
Margaret (Mikey) (Reddy) Saunders
Donald Francis Schwartz
James Clare Seeley
Constance Elaine Sherman
Arthur Shultz
Marijut Kaarian Siirala
Wayne Alan Townsend
William Vilorous Ulsch
Jack Jessie Walker
Sharon Woodhams
Robert Perry Wynne

Class of 1962
Monte Barrett
Larry Oliver Briggs
Janet Tacklaberry Buck
Joseph Gerald Buckallew
Wesley "Jack" Buckallew
Sarah Bushouse
Delia Carver
Mary Jane Derhammer
Robert Falk
Nada Griner
Terry Groner
Bill Haines
Gerald (Jerry) Arthur Harrison
Ann (Hart) Vanover
Ruth (Danger) Briggs Horn
Herbert Hummer
Carolyn Weinberg Jergens
Timothy Lee Kaufmann
David A. Lash
Julie Lawrence
Thomas Maneikis
Betty Rice
Bonnie Saunders
John Patrick (Pat) Simpson
Jim Snook
Ronald Smith
Carol Van Epps
R. James Watson
Carolyn Weinberg

Class of 1961
Jerry Allison
Lee Bennett
Michaeline Blaire
Stephen Boling
Richard Bresson
Marily Snyder Butcher
Gary Carpenter
Terry Coburn
Roger Cook
Twila June Cooper
Clara (Bolton) Cousins
Kenny Cousins
Philip Cutler
Sharon Dailey
Mike (Max) Eberstein
Sharon Feaser
Ronald Bruce Gentry
Dennis Grimm
Sandy Grosser
Donald Hartman
Helen (Brown) Horn
Ren Louthen
Mike Maher
Bruce Mohney
Ruth Moyer
David Pomeroy
Gary Schoepke
Virginia (Erskine) Schuring
Michele Seadorf
Jerry Sell
Paul Shearer
Virginia (Erskine) Shuring
James Soloman
Duane VanDyke
Fred VanFulpen
Raymond VanGoeye
Marilyn Winkelman

Class of 1960
Ruth Ann (Canavan) Batts
Pete Brockway
Phillip Browne
Mary Butler
Ray Butler
James Coates
Jeanne DeRyke
Carl Dorbin
Francis Dragoo
Betty Dubbeld
Kenneth Duncan
Dolores (Weitenauer) Elkins
James Gould
Larry Gray
David Kaiser
Sharon Keith
Chuck Kunselman
Robert Middaugh
Terry Miles
Roland (Mickey) Morey
Tom Nelson
Betty Nidy
Bonnie (Munther) Nuyen
Alma Darlene Perry
Shirley Poe
Richard Porter
Terrance (Terry) Porter
Virginia Imanse Sargeant
Marlene Hill Schutes
Gerald Swinehart
Dorothy Evans Taylor
Dennis VanderHorst
Henry Vose
Mary Waterson
Glen Willis
Class 1950 - 1959
Class of 1959
Sue Anderson
Bill Borgman
Carol Boughton
George Carpenter
Loretta Casey
Harold Cutler
Charles Dibble
Mient Faber
Bethel Forney
Doug Grimm
Barbara Crapo Hansen
Jerry Harnish
Richard Hart
John Heath
Thomas Hill
Robert Hinkley
Jan Hollenbeck
Roger Johnson
Johanna Kiel
Marshel Kime
Dennis King
Donald Layne
Victor Manley
Chuck Marks
Willard Minnis
David Parsons
Judy Parsons
Dean T. Perry
Bonnee Rainwater
Douglas Rector
Jack Reece
Verna Riggs
Ed Rishel
Linda Roop
Diane Royal
James Shultz
Robert Shuring
Gerald H. Smith
James Stout
Allen Taylor
Sharon (Mort) Terpstra
Ronald Thomas
James VanLinder
Jake VanTichel
Joyce Williams

Class of 1958
Janice Hattis Applebey
Clare Barnes
Terry Brown
James Carpenter
Eleanor (Copenhafer) Cooley
Richard Crouch
Paul Dewey Evans
Mary Jo Fritz
Betty Gorden
Sharon Parsons Gose
JoAnn Hallam
Kenneth Heikes
Carol (Fish) Henderson
Janet Hughes
Neil Jenkins
Richard Kirschenbauer
Gayle Kundart
Carl Matthews
Kay Clark Miller
Ronald Minnis
Lester Noel
Jack Plankenhorn
Diane (Snyder) Reese
Ronald Paul Reece
Etina Hayward Skidmore
Laura Southworth
William Stockwell
Charles Timm
Ronald Thomas
Barbara Roblyer
Jerry Yoder
Ronald Vandyke
Wayne Vickery
Marilyn Woodhouse

Class of 1957
Walter (Abe) Ash
Shirley (Walker) Berry
James Britton
Ernestine (Shaffer) Browne
Jerry Butler
Richard Cooley
Jerry Dailey
Grace Dorbin
Phil Fry
Dale Harnish
Fred Hiemstra
Nancy (Cross) Hiemstra
Walter Homan
Bruce Imanse
Linda (Boling) Keech
Beverly (Campbell) Kersten
Jim Kott
Marjorie (Burke) Kuhlmann
Shirley (Robinson) Kye
Delores (Shultz) Lohrberg
Delores (Laurie) (Chaddock) Lyons
Mary (Evans) Marr
Marvis (Parks) McCarty
Walter McElvain
Janet (Hamilton) Ottinger
Ross Powell
Howard Reinbold
Shirley Riggs
Dennis Royal
Betty (Rishel) Sheely
Joan (Lafler) Sleeman
Harold Stafford
Phillip Standish
Joan (Weitenauer) Wales-Dickson
J. William (Bill) Weessies
Jean (Jenkins) Wilson
Tom Wise

Class of 1956
David Beattie
Carolyn Brown
Beverly Joyce Buckallew
Max Evans
Jean Dalman Fleck
Peter G. Gilding
Richard Allen Goldsmith
Dale L. Grimm
Merle Halsey
Richard Henderson
Robert Hildebrand
Ruth Ellen Hitzeman
Peggy (Snyder) Hollenbeck-Portinga
Ronald K. Jenkins
Carol J. Morlan
Sue (Clark) Moore
Richard Munn
Carol Reddy
David Reed
Raymond L. Snyder
Edward William (Bill) Stone
John VanDyke
Kenneth Watson
Jack Williams
Patti Sweetman Zantjer

Class of 1955
Marilyn Fritz Borton
Bob Cheesebro
Chuck Christison
Bernard Crouch
Betty (Heath) DeMerril
Allen Dibble
Ken Dorrance
Walter Dubbeld
Ron Vande Giessen
Joyce (Snook) Hoeksema
Gary Hollenbeck
Terry King
Wyatt Kirk
Marilyn Holt Miller
Bob Minnis
Max Spealman
Dave Wales
Marcia Wagar
Darlene Yankee
Shirley Mosier
Roger Weirick
Keith Wiltze

Class of 1954
Ruth Abbott
Richard Allen
Onalee Baker
Duane Barnes
Delores Barney
Samuel "Joe" Brockway
Joan Chaddock
Jean Coble
Jim Craft
Gareth Culp
Joan Culp
Alice Buckallew Dibble
Richard Dibble
Raymond Eberstein
Norine Evans
Earnest Heath
Marilyn Hill
Joyce Hitzeman
Doris Janacek
Allen Mendel Kelly
Jerry Kott
Phyllis Moored Minnis
Marlene Stermer Tuckey Mutz
Gorden Neidlinger
Richard (Dick/Doc) Nielsen
Stanley Nielson
Marjorie Riggs
Robert Sheward
George Shyer
Robert Sisco
David Stermer
Norma Jean (Switzer) Suess
Cynthia Wales
Jack Winkelman
Robert Zantjer

Class of 1953
Barbara Imanse Ackerman
Larry Burr
Elaine (Hayward) Chew
Carol York Collins
Harold Coville
William "Bill" Dent
Dee "Dean" Forsythe
Loyd "Carpy" Freeman
Dana Fry
Nancy Pinkerton Gray
Jack L. Harrison
Loren Hayward
Oscar Hunt
Debbie (Southworth) Jenkins
Harold (Bud) Jenkins
Forrest Kissinger
Marilyn (Sanford) Lard
Max Loker
Ron Lude
Nancy (Butler) Lukins
Carol (Kunselman) Massy
Gordon Moore
Patricia (Beebe) Noel
Gordon Oswalt
Margaret Oswalt
Nancy Martens Phillips
Louise (Munn) Reed
Margorie Simmons
Erseline Simonds
David Stermer
Darlene Summerville
Rev. Elvin (Sonny) Lee Switzer
James T. Thurman
Edwin Waldron

Class of 1952
Cleon Allen
Sydney (Mosier) Alworden
Tom Anderson
Larry Bingham
Helen Boughton
JoAnn (Epley) Brandon
Richard Burgess
Lloyd Cantwell
Janet (Anderson) Crabtree
Lloyd Craft
Darlyne Crain
David Crain
Ethel (Nidy) Crotger
Donna (Henderson) Dorrance
Russell Eberstein
Paul Fenwick
Norma (Canavan) Flinn
David Freer
Vivian Alice (Snyder) Fry
John Goldsmith
Jeannette Gruisinger
James Hallam
Jerry Harrison
Jim Hill
Doris Lafler
Flora Dell Lamerson
Carol Thornton Mackey
Lewis Maher
Phyllis (Moored) Minnis
Joyce (Hodgeman) Phelps
Delores (Saunders) Schreffler
Evan Shick
Hilmer Stermer
Judy (Skillman) Tague
Carol Trimmer
Ann (Collins) Wibel
Sandra (Bourns) Wilcox
Avonline (Hope) Williamson
Louis Wolthuis
Mary (Haynes) Zimmerman

Class of 1951
Martha Harding Butler
William deDie
Donna Henderson Dorrance
Fletcher Theodore (Ted) Everett
James Fess
Richard Griffith
Max Harvey
Florence Hayward
Ronald Hayward
Herman Lewis
Marion Homan
Phyllis Knauss Nakken
John Southworth
Anna (Hippen) Springer
Bernice Vance

Class of 1950
James Beldon
Glen Borton
Myrtle Boughton
Patricia Bucknell
Helen Canavan
Gerald Charles
Jane Miller Evans
Walter Fenwick
Robert Green
Ann Oswalt Hallam
Maurice "Bud" Hallam
Lloy Dorrance Haw
Mary Guilding Heinrich
Helen Boughton Hogg
Doris Kundart Jenkins
Susan Little
Betty Shyer Louthan
Pat "John" Maher
Shirlee Rowlson Mann
Betty Meek Miller
Mildred Snyder Mitchell
Helen Harrison Oliver
Marlene (Burrows) Payne
Dale Roberts
Millard Ross
Aaron Snow
Anna Mae (Hippen) Springer
Bruce Stephenson
John Trimner
Arletta Weinberg
Maxine Roop Yeomans
Ted Zimmerman
Class 1940 - 1949
Class of 1949
Culia Ackerman
Thomas Bone
Dale Bothwell
Rex Lee Brockway
Thomas Cross
Robert Eberstein
Arthur Everett
Thomas Fenwick
Dorothy Klein Fritchie
Royce Groat
Albert Jensen
Herman Higgen
Jack Hite
Meredith Horn
Phyllis (Anderson) Jungjohan
Mary Lou Gross Kirshenbauer
Robert Mason
Margaret (Peggy) (Rawlinson) Merrill
Donna Bourns McNally
Kenneth Miller
Walter Moyer
Larry Noel
Norma Roop
Harry Semenczuk
Howard Smith
Robert VanderWeele
Robert Visscher

Class of 1948
Walter Ackerman
Frances Ballard
Louis Bedford
James Berger
Leah Keyser Berry
Garrett Bolhuis
Delores Wing Brockway
Lila Burgess
Allen Cichy
Marie Dent
Bill Eberstein
Sarah (Kimble) Ely
Chuck Epley
Gloria Goldsmith
Carolyn Scotton Grey
Richard Grinder
Charles Haines
Bill Hawken
Duane Hill
Chrystal Horst Kersten
Ann Ross Keyer
Patricia (Kirkendall) Klein
Walter DeWitt Layne
Jane Hill Massey
Burton Munn
Donald L. Noel
Joyce Cleaver Noel
Leland Paul
Donald Penney
Ann Miller Perkins
Jim Pinkerton
Charles Shoemaker
Marvetta Snook
Irene Roberts Taylor
Orville Watson
Stanley Eugene Watson
John Weeks
Delores Brockway Wing

Class of 1947
Robert Boekhout
Velda Buckmaster
Robert Carvell
Monte Charles
Robert Cushman
Gerald Dent
Charles Epley
Richard Frizzo
Linn Glidden
Doris Grinder
Jean Grinder
Wayne Groat
Jackie Hollenbeck
Rosemary (Cripps) Holtzer
Delores Moyer Lang
Jean Miller
Delores Ann Moyer
Mary Jo Mellus McKindley
Leland Jack Pinkerton
Norma Pinkerton
Jack Riddle
Ronald Skippers
Donald Upson

Class of 1946
Maxine Adams
Patricia Dewey Anderson
Barbara Porter Bowers
Carlton Brockway
Robert Butler
Elsie (Wolhuis) Carvell
Willis "Bill" Carvell
Helen Griffith Cheesbro
Dorothea Cobert
Phyllis Comstock
Dorothea Cohrs Charles
Phyllis Kersten Charles
Helen Dorrance
Marilyn Rupert Durham
David "Bud" Goldsmith
Robert Harrison
Donna Stermer Holtz
Richard W. Meyer
Wilbur Merry
Alice Skrzypek Murphy
Jack "Irish" Murphy
Donald Peterman
Delores Mary Borton Smith
Walter "Walt" Stafford
Kathryn Shick Starbuck
Willa Kirkendall Stauffer
Stanley Weinberg
Laurin Wing

Class of 1945
Betty Reece Brinkman
Donald Brockway
Irene (Burr) Green
Charles Grinder
Lois (Weinberg) Henry
Charlolotte Carvell Kirch
Mary Ann Wolhui Klimek
Margaret (Peggy) (Brown) Zonyk Lambert
Oha Lightfoot Margules
Margaret Beebe Martins
Robert Merrill
Marilyn Miller
Beverly Miller Nimmo
Jack Pinkerton
Arnold Reinbold
Ted Skrzypek
Margaret Beebe Sunday

Class of 1944
Cathrine Burger Ball
Barbara Fenwick Bell
Helen Wolthuis Bennett
Patricia Bourns
Genevieve Bowyer
Rayletta Swan Brown
Kathryn Canavan
Letha Collins
Clyde Covell
Dick Erwine
Louis Galler
Ronald Eugene Groat
George Harber
Lloyd Harber
Otis Harper
Pat (Frank) Lowe
Kathryn Bolthuis Lowman
June Miller
Jack Noel
Dick Rectenwal
Elizabeth Skippers
Dale Smith
Max Stanton
Victoria Vekich

Class of 1943
James Brown
William Bolhuis
Frank Dorbin
Brian Leslie Dorrance
LaVon Stephenson Dorrance
Joyce E. Grigsby
Jay J. Groat
Muriel Houghton
Paul S. Huntington
Geneva L. Lance
Elizabeth Pauline Maystead
John Mattheis
Robert Richardson
Marilynn Sawyer
Le Anna Crouch Sillaman
Norma Skippers
John Stafinski
Elizabeth Ward
Lyle Weinberg
Doris Williams

Class of 1942
Leonard Becker
Jeanne Beattie Bogard
Beryl Stephenson Bothwell
Lyle Brockway
Maria Dalman Brockway
Ester Daniels
Charles Daugherty
Clelia Dooley
Bryce Frisbie
Barbara Jean (Munn) Griner
Harold Heikes
Audrey Herson
Marten Hettinga
Glenn Houghton
Dorothy Maystead Kettle
Richard Lowe
Frank Noel Jr.
Robert Oswalt
Genevieve Pinkerton
Eleanor Galler Resseguie
Robert Richardson
Patricia Nyman Seefeldt
Eugene Stermer
Janet Frisbie Whitmore
Patty Helms Zonyk

Class of 1941
Donald Carney
Charles(Dick)Carvell
Robert Dolbee
George Etheridge
Jessie Tessin Field
George Galler
John Grubka
Jack Hawkins
Isabell Buck Hill
Elaine Braden Keith
Dorothy Warner Nelson
Joseph Pinkerton
Kenneth Rawlinson
Quincy Sharp
Alfred Smith
Paul Smith
Ruth Allen Smith
Loreen Stafford
Roger Stephenson
Alice Pelling Sylvester
Gerald Sylvester
Pauline Carr Thurmond
Dorothy VanKruiningen Webster
Ruth White

Class of 1940
Gerald Adams
Elgin Bothwell
Thelma Bothwell
June Carr
Delvern Carter
Clara Colby
Rene Cousins
Robert Cribbs
Joan Dalman
Robert Derhammer
Madeline Dorbin
John Warren Eseltine
Dorothy Felker
Russell Gary
Doris Granger
Donald Hollenbeck
Doris Houghton
Orma Huntington
John Jordon
Lyle Lance
Barbara Leland
Dorothy Lowe
Margaret Mapes
William Miller
June Morley
Ralph Morley
Robert Nimmo
Irene Olson
Frank Penar
Alfred Smith
Frank Snow
Marie Southworth
Glen Spiedel
Jay Stafford
Edward Stafinski
Lorene Stephenson
Dave Timm
Raleigh Trotter Fontaine
Marjorie Frays Vliek
Harold Walker
Robert Ward
Rex Weinberg
Jerome Stone Wetter
Class 1930 - 1939
Class of 1939
Robert Coleman
Maxine (Muir) Cohrs
Marjorie (Muir) Davis
Virginia (Leone) Krake
Cecelia Semenczuk-Skippers

Class of 1938
Mary (Thurman) Blocker
Kenneth Caswell
Robert Cohrs
Aridean (Becker) French
Robert Sheline
Harriett (Stafinski) Pultorak
Avadna (Becker) Berry Vander Veen

Class of 1937
Marian (Brockway) Davenport
Doris Dentler
Martha Derhammer
June Frost
Andy Thornton

Class of 1936
John Boughton
Helen Bullard
Jane Grubka
Evert Heikes
Winona (Caswell) Mosher
Ralph Smith
Margery Worthington

Class of 1935
Dale Alexander
Robert Barber
Hazel (Hunter) Burr
Elma (Hinkley) Bowersox
Roy Bullard
Louis Crouch
Virginia (Noel) Curren
Lillian Daugherty
Marguerite Davidson
John Dir
Norman Elliott
Helen Flanders
Bill Frakes
Erma Garrison
Pauline (Rawlinson) Gifford
Roland Griggs
Vesta (Buckmaster) Grinder
Albert Holcomb
Stanley Hargot
Hazel (Hunter) Burr
Clair Huntington
Waymond Kaufmann
Donald Kline
Donna (Brockway) Kunselman
Richard Miller
Harriet (Lowe) Oakleaf
Darrell Phillips
Eston Rawson
Erma (Garrison) Smalley
Louise (Nix) VanBeeck
Lola Vorenkamp
George Zonyk

Class of 1934
Belle Boughton
Edna Stanton
Mason Bishop

Class of 1933
Beatrice Barber
June Bobish
Elva Borton
Iva Covell
Beulah Crouch
Julia Everett
Vesta Nellans
Vincent Rawlinson
Ralph Smith
Charles Trumble

Class of 1932
Irene Beattie
Mary Brumbaugh
Lyle Burr
Carol Coates
Marjorie (Daniels) Coe
Charles Cooley
Marvin Dalman
Lois (Nimmo) Doubledee
Mildred Bullard Donovan
Louise Hass
Betty Hawkins
Helen Hedrick
Robert Lyons
Catherine (Cloneg) McPherson
James Mellus
Willard Mohney
Francis Moughton
Ronald Phillips
Rex Rectenwal
Mary Jane Rishel
Dorothy (Yankee) Robinson
Toisa (Needham) Rodeheaven
Margaret (Hill) Simmons
Rovelle Simmons
Robert (Bob) Springer
Mancelle Valette
Richmon Watson
Ruth Weinberg
Doris (Eldred) Weick
Cecil Worthington