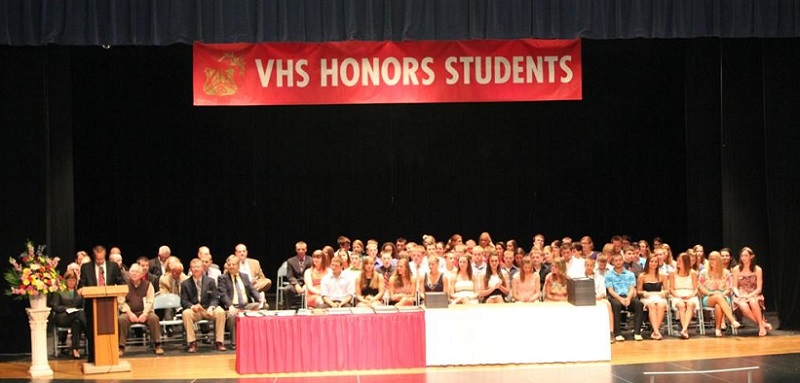 Applying for scholarships has never been easier! VCSF entered the digital world and is offering all VHS seniors the ability to apply for VCSF scholarships through a cloud-based software program, "Kaleidoscope."
Applications for scholarships are available on-line starting February 1, 2021. Please use the link below to apply for the scholarships offered by the Vicksburg Community Schools Foundation, as well as scholarships offered nationally through Kaleidoscope's marketplace. Applications must be submitted by March 17, 2021. Selections will be made by designated members of the Vicksburg School Foundation's Board of Directors. Announcement of recipients will be made at the Vicksburg High School Seniors' Honors Reception, May 20, 2021.
Please note - information from your transcript is required: GPA and Class Rank. Transcripts can be located in your Skyward account under the "Portfolio" tab. See below.

Questions? Call Beth O'Roark @ (269) 321-1006 or email, boroark@vicksburgschools.org

The Vicksburg Community Schools Foundation Scholarship Program was created in 1999 with awards ranging from $500 - $3,000 for Vicksburg High School graduates who wish to pursue further education for their life's goals. These one-year scholarships may be used either for vocational, 2-year or 4-year programs.
Congratulations to our class of 2020 scholarship recipients! Over $46,000 was awarded to the following students:
Gordon and Dorothy Daniels ($3,000 - one available)
Applicants should present a strong resume of volunteerism and service to community along with academic achievement. 2020 Recipient: Garrett Kirschner
Ana Resseguie-Barnes ($1,000 - one available)
For a student who maintains a 3.5 or better GPA and has demonstrated a strong level of school involvement, good character, and citizenship. 2020 Recipient: Gracie Cornett
Letha Munn ($500 - one available)
For a student with solid academic achievement and plans for a career in elementary teaching. 2020 Recipient: Skylar Trimble
Louise Reed ($1,000 - one available)
For a student with a solid academic record, a strong record of community service, and career plans in healthcare. 2020 Recipient: Kelcey Cook
Patrick and Lynn Vallier ($500 - one available)
For a student with a strong record of school and community involvement and service. 2020 Recipient: Mason Randle
Stanley Weinberg Farms ($1,250 - one available)
For a student who has a high level of involvement and achievement in agri-science or veterinary science and who plans to pursue a higher education degree in one of these fields. 2020 Recipient: Riley-Ann Bierema
Lloyd (Todd) Cantwell ($500 - one available)
For an honor student pursuing a BA/BS degree in the medical field (including research, practice, clinical, etc.). 2020 Recipient: Jacob Baird
John W. Fritz ($500 - one available)
For a student with post-secondary education plans and career goals in agri-science, natural resources, animal science, or related fields. 2020 Recipient: Brianne Klimek
Jeremy Smith ($1,000 - two available)
For a student who demonstrates outstanding character, perseverance, and commitment through involvement in high school activities such as athletics, band, and in their class work, while striving to maintain approximately a B average. 2020 Recipients: Brett Manski and Isabell Willis
Vicksburg Foundation ($2,500 - six available)
For students who have good academic credentials along with other accomplishments that distinguish their high school career. 2020 Recipients: Jenna Beach, Jennifer Converse, Lindsay Fleck, Hailey Klimek, Brianna Petersen and Dawnara Rollins
Vicksburg Community Schools Foundation ($1,000 - two available)
For students who have good academic credentials along with other accomplishments that distinguish their high school career. 2020 Recipients: Meegan Heerlyn and Kinsay Riddle
The Appell Family Scholarship ($2,500 - one available)
For a student with a strong background in science and math, strong level of community and school involvement (including extracurricular activities). 2020 Recipient: Sydney Finos
David T. Reisterer Memorial Scholarship ($2,750 - two available)
For a male baseball and a female softball player who maintains at least a 3.0 GPA and is interested in pursuing a career in math or history. 2020 Recipients: Remi O'Neill and David Tultz
Oswalt Family Farms Scholarship ($1,000 - one available)
For a student pursuing training in the construction/building or automotive trades, demonstrating aptitude a commitment through his or her high school coursework, training, and possible job experiences. 2020 Recipient: Chase Stenger
Oswalt Family Music Scholarship ($1,000 - one available)
For a student who demonstrated excellence in musicianship and commitment to the vocal and instrumental music(s) programs at VHS. This person is pursuing a four-year degree in music education, performance, or composition. 2020 Recipient: Meghan Miller
Lewis W. Maher ($1,500 - one available, and up to two)
Must be a student planning a career in the skilled trades. Strong consideration will be given to a student who has overcome obstacles to succeed in school. 2020 Recipients: Kevin Munn and Abigail Laughery
Peter Tindall Memorial Scholarship ($1,000 - two available)
Scholarship is awarded to a student planning to pursue academic certification or a degree beyond high school in the skilled trades, vocational or technical programs. Strong consideration will be given to a student who has overcome challenges to succeed in school. 2020 Recipients: Sophie Bradley and Michelle Smith
Harris Walters Memorial Scholarship ($500 - one available)
For a graduating senior who reflects the strong work ethic and values of the late Harris Walters. The recipient of this scholarship must have work experience during high school, and plans to attend a two to four year college or trade school. 2020 Recipient: Chase Stenger
Mason Heikes Memorial Scholarship ($500 - one available)
For a student who maintains a 2.5 GPA or higher, interest in agri-science, vet science, biology, farming or agriculture related interest, such as diesel mechanic, machine tool and etc. Student should demonstrate a strong work ethic, employment and volunteer experience during high school, as well as extracurricular activities. 2020 Recipient: Kathryn Wells -Schmidt
Brennan S. Hamilton Memorial Scholarship ($2,000 - one available)
For a student who has persevered through personal crisis, and maintained focus on attendance and achieved at least a 3.0 GPA. Must be planning to pursue a two or four year degree. 2020 Recipient: Mikayla Sands
2020 Scholarship Recipients